Please note : 1st Ramadan will be Tuesday and we have arranged for Taraweeh this year IN SHA ALLAH.
Update – 1st Dec 2020
Insha Allah Masjid will re-open for congregational prayers (Salaah with Jamaat) from 2nd December Fajr Salaah tomorrow.  There will be the normal Hands Face Space rule in place as before this current lockdown.  Please bring your face mask, prayer mat.  Under 13 years or below pray at home. Ones with health problems or 70 plus pray at home.  Jumuah Salaah will take place from this Friday 4th Dec (1.15 pm)
A. Muhammad
---
IMPORTANT Covid update – 1st Nov 2020
Assalam o Alikum 
It's regret to inform that Danetre Masjid will be closed from Thursday 5th of November till 2nd of December due to Government restrictions for Covid 19 outbreak and please pray at home and keep checking our Masjid website for any information.
 Jazakallah
A. Muhammad 
---
IMPORTANT Covid update – Sep 2020
The Government has introduced guidance which applies from 14th September 2020 across England to suppress the increase in cases affected by Covid-19. Places of worship are impacted however you need to be aware and share this information with your family and friends. If you have any questions, please come back to me. Please use link below to access details of the guidance.
Jazakallah
A. Muhammad 
https://www.gov.uk/government/news/coronavirus-covid-19-what-has-changed-9-september
From Monday 14 September, you must not meet with people from other households socially in groups of more than 6. This will apply indoors and outdoors, including in private homes. This change will simplify and clarify the rules on social gatherings, so they are easier to understand and easier for the police to enforce. There will be a limited number of exemptions. COVID-19 Secure venues, such as places of worship, restaurants and hospitality venues, can still host larger numbers in total but groups of up to 6 must not mix or form larger groups. This rule will not apply to individual households or support bubbles of more than 6 who will still be able to gather together. Education and work settings are unaffected, and organised team sports will still be able to proceed, as will weddings and funerals up to 30 From Monday, this limit will be enforceable in law.
---
4th July 2020 – COVID-19 NOTICE – SAFELY RE-OPENING DAVENTRY MASJID
Assalam o Alikum,
Praise be to Allah alone, and peace and blessings upon His beloved prophet, Muhammad (saw).
Following recent guidance from the UK government we will in sha allah re-open our Daventry masjid from Saturday 4th July 2020, but adhere to strict restrictions as mentioned below. 
Masjid will open 10 minutes before Azan and close 10 minutes after jamat
You complete the registration with the volunteer and must put your contact umber and in and out time.
No elderly over the age of 65 years and children under 12 years are allowed entry. Additionally, no person with underlying health conditions are allowed.
You must perform wadu at home if possible as there will be no access for wadu or toilet facilities.
You must sanitise your hands before entering the masjid (sanitisers provided)
There will be no access to quran cupboards.
Always abide by the social distancing rules, you must maintain 2 meters distance inside and outside the masjid including queuing.
Avoid handshaking or hugging, socialising and gathering within the boundary of the masjid.
What you must bring with you, always
You must bring your own prayer mat.
You must bring your own shoe bag to keep your shoes.
Ensure you have wudu before arriving at the masjid.
We will keep the situation under constant review and update the guidelines as necessary and in sha allah we pray to the almighty to grants everyone protection, comfort and ease.
Ahtaram Muhammad
Chairman
Daventry Masjid
---
---
Fitrana for this year
Fitrana for this year is £3.50 per person which needs to be paid before Eid Prayers. Please call 07958-774551 for any information.
---
Important: Friday Prayers notice (March 2020)
Due to
current virus outbreak
, we have decided to suspend Friday prayers until further notice. Please check our website or call
07958-774551
for updates.
---
Welcome to the site of the Daventry Muslim Association and Masjid in Daventry. Registered charity number: 1133432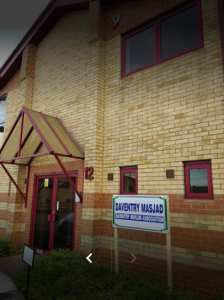 Daventry Muslim Association's charitable objectives:
1. to advance the islamic faith by the provision of a muslim community centre; 2. to advance education; 3. to preserve and protect the good health of people who live in daventry area by any charitable means which the trustees deem fit; 4. the relief of poverty and financial hardship by the provision of information advice and support. 5. the promotion of religious harmony for the benefit of the public by promoting knowledge and mutual understanding and respect of the beliefs and practices of different religious faiths.
---